Just got done with a live translated entrepreneurship presentation to Japanese kids from the Tomodachi Initiative. Inspiring experience.

— David Drake (@randomdrake) August 5, 2013
Last year I had the wonderful opportunity to utilize my stage skills and teaching background for the Tomodachi Summer 2013 SoftBank Leadership Program. The gentleman running the program stateside reached out to my previous employer and other startups in the area to find folks willing to volunteer and I was more than eager to oblige. During the experience, I learned a lot about myself, a lot about the kids, and discovered how entrepreneurship differs so wildly around the world.
"You're going to do what?"
This was the common response from my co-workers, friends, family, and basically everyone else. I was going to be delivering a 60-90 minute presentation, in English, and have it translated on the fly, to a bunch of high-school aged students from Japan. This sounded like madness to some. I was a teacher for many years and I've been an actor professionally or otherwise, since I was a child. This opportunity was definitely going to be different but I was up for the challenge and I'm so glad I did it.
Leading Up to the Event
Working with the organizer for the event was a lot of fun. My day with them was going to be sort of a culmination of everything they had learned throughout the program so I knew it needed to be fun and interactive. We came up with ideas and brainstormed and ultimately decided on the following itinerary for my day with the kids:
Presentation at UC Berkeley in the morning.
Sushi lunch with them in the afternoon.
Bus them over to the company I worked at and give them a tour.
Get a big group photo with the kids and their surprise new shirts.
I was able to get some logos together, and we were able to get some cool shirts together for the kids featuring the Tomodachi logo, as well as other logos of companies that had helped with the initiative. Ultimately, it was an incredible success.
Translated on the Fly
The presentation itself was a lot of fun. I had hoped to be able to deliver my deck to the translator prior to meeting him, but that didn't turn out to be the case. I had not ever given a presentation that was translated into another language on the fly. The closest would probably be sign language alongside a performance.
I got to meet the translator for about 20 minutes before the kids started arriving. He was a younger student and was clearly worried about what he was going to do. I told him not to worry; that I was a trained actor and I would promise not to go too fast. We practiced a bit, with me speaking to reassure him that I would speak clearly and slowly. He was able to follow along just fine and was very relieved after our little practice session.
I was still a bit nervous, but that was quickly washed away by excitement as the kids started arriving and the room started filling up. When I entered the room there were 100 or so faces of Japanese students, as well as a few adults with the program staring down towards the podium at the front of the room.
"I felt at home again. I hadn't been up in front of a classroom for years and it felt great."
The kids were like any typical group of high school kids. Some daydreaming, some dozing, some paying extreme attention, some giggling, some texting. For the most part, however, they were very attentive; more so than most classes of US students.
After some brief introductions, I was up and it was time to test the waters of having your thoughts and speech interrupted and translated. I began speaking slowly and clearly. I would say a few words or sentences, or convey an idea, and then pause and wait for the translation. We quickly got a rhythm and it proved to be a big success.
Surprising Questions and Finding Answers
Ggetting to the point where it's time to ask questions is always one of my favorite parts because it's my chance to learn from my audience. The students asked some great questions that showed that they were clearly interested in entrepreneurship, technology, and my presentation.
"You said that you couldn't live without your iPhone, what would you do if you didn't have one?"
This was the question that hit me the hardest.
During my presentation I had brought up the idea of organization, and how there are tools and services available to allow you, as an entrepreneur, to stay organized. I mentioned in passing that I had everything available on my iPhone and that I "couldn't live without it." That apparently stuck with one of the students and they asked the question of me.
I felt a ashamed. I didn't mean for them to take it literally. Most of the kids were from broken homes, had lost family members, parents, and everything to the massive damage caused by the earthquake. In Japan, I would later learn, an iOS device is a thing of extravagant luxury to many.
I looked out over the sea of kids, clutching their iPads that were given to them as part of the program, and came up with:
"I guess I would have to build a new one."
This delighted and excited all of them.
Entrepreneurship in Japanese Culture
After speaking with the students, their advisors, and talking to friends of mine who have lived and spent time in Japan, I discovered that the "entrepreneurial spirit" is not what it is here in the states.
For many Japanese, the idea of wanting to start a business on your own, and do your own thing, is not a commonly accepted one. There, the cultural path towards success is typically about, not creating your own success, but working for the people who have been the best at creating their success. The ultimate point of career, or even a life, would be to obtain a position in a big company, not to own one.
This was evident in some of the questions and responses from the students. Seeing their eyes light up at mentioning the fact that there are resources available for them to learn, to make their own connections, and to start their own businesses was very fun to watch.
The impact on a large portion of the students was palpable.
Touring the Company and Saying Goodbye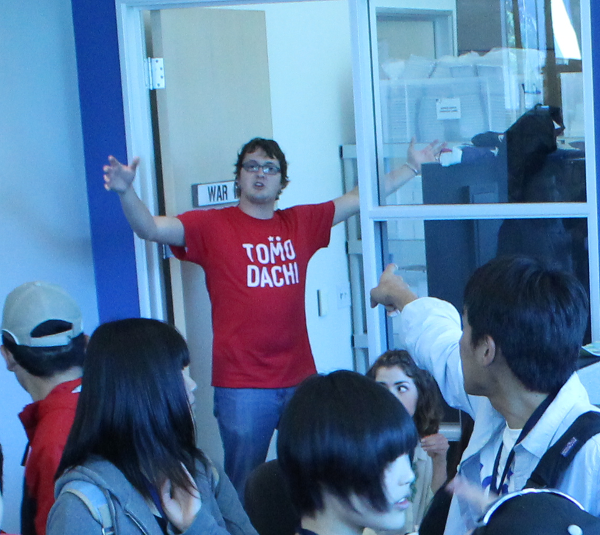 When the busses started rolling up and the kids started pouring out, the cat herding began. We split the kids groups. While some kids were busy touring the campus of Pacific Shores, the rest of the students were coming into the offices and getting their shirts.
During their tour, they were able to see the offices of a growing Silicon Valley startup. They went through the packaging areas, storage areas, got to say hello to the designers and developers and got their t-shirts.
Once all the students had gone through their tours, we all got together for a final group photo: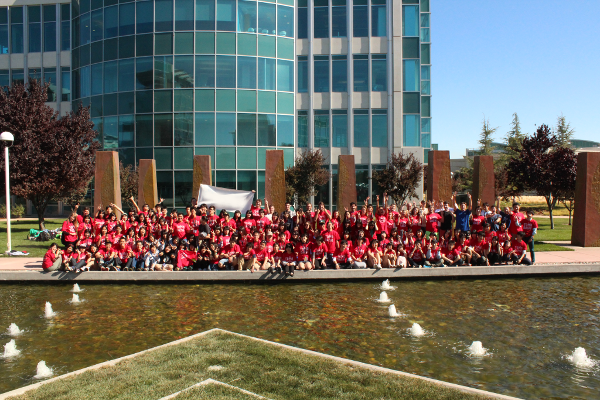 I had an incredible time and would do it again in a heartbeat.
If you liked this post, please consider following me @randomdrake or subscribing to my feed.