If you are looking for the unlisted phone number to report a complaint about an in-store experience with PacSun, please scroll to the end of this post.
This particular experience began in early March of 2008. I was in need of a new belt as mine had become tattered and worn after about a year of use. I decided that since this belt had held on pretty well, that I would go purchase another belt from the same vendor.
The store in this case is PacSun located in Missoula, Montana in Southgate Mall. I had gone to the store many times before and even knew a person who worked there.
Let me start by saying that I have been a patron to this store since it started in the early nineties. Mostly because the Bullhead brand of jeans that they sell fit me better than jeans I can get elsewhere. In fact, I remember when it was still called Pacific Sunwear.
I went in and purchased a black spiked belt not unlike this one: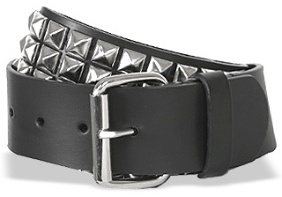 Keep in mind, I do web application development for a living so I am not constantly engaged in activities which would cause an abnormal amount of wear upon a belt. However, after only a month of owning the product, it snapped completely in half while putting it on one morning. So Bonnie and I went back to the store with the intentions of receiving a refund for such an obviously shoddy product.
We walked into the store and a younger gentleman behind the counter asked if he could help us. We explained that we would like to return a belt and held up the broken product. He said he would grab someone else to help us. A small, female employee approached us and asked us what was up. We explained to her that we had purchased the belt just a month ago and already it broke completely in half. Then she said to hold on while she went to the back. At this point, the gentleman piped up and jokingly said: "Don't worry, we'll find someone who know what they're doing."
After a minute or two the employee emerged from the back and went to back to the counter and started going through a notebook. While she was looking for something (she didn't tell us what she was doing), she was able to find the time to help another employee looking for what appeared to be a display guide. After a few more minutes of just standing there, she said that they could give us a new belt or give us store credit. I plainly said that I didn't want to replace the belt with another one because I was worried it would also break. She stated that it was company policy. "If it broke after a couple of days, then I wouldn't mind," she said. "You can trade this (holding up the belt) for a brand new one or get store credit."
I then asked, "What do I do if the next belt breaks on me again then?" This received no response and an odd look. She then pointed to the bit of wear that had started to occur around the buckle of the belt and said, "This is obviously really worn down." Of course, the belt snapped in half in the middle of the belt, not near any worn areas. Then the male employee said, "Yea, I've got belts that are 4 years old that don't have that much wear on them." I responded with, "So, what: I'm wearing my belt wrong? Is that what you're trying to tell me?" He giggled. I wanted to smack the silly haircut off of his head.
At this point the female employee was getting agitated and said "Look you can take the new belt or get store credit. That's company policy." My fiancee then referred to the return policies listed on a small sign on the front of the counter saying "There's nothing on this sign that says it's store policy to not refund obviously defective items." The response? "Well, I know it's not listed there, but that's how it is."
At this point it was obvious that none of the employees helping us had any idea what customer service was so I asked if there was some kind of corporate number available. She responded flippantly with: "I'll see what I can find." She indicated towards the receipt (which both Bonnie and I interpreted as: "It's on the recepit."), placed the stuff in a bag and handed it to us. Upon leaving the store, there was no number on the paper given to us and we had a store credit for a product that was obviously faulty.
The next morning, I decided to look for a number on the internet to call and report this behavior. Guess what? PacSun does not list their number for in store customer service complaints ANYWHERE on their site or (after a Google search) on the internet. I decided to call the website phone number. When I spoke with someone on the phone, they indicated that they could not help me and gave me the number to call. He then added, "You're going to have to leave a message and then someone will call you back within 48 hours."
WHAT?! You mean to tell me that customers, who are irate because of an in-store experience, have to call a number (if they can find it) and leave a message with the hope that someone will call them back? That's probably the worst consumer customer complaint handling that I have ever heard of.
So he connected me, I left a message, and assumed I wouldn't hear anything for quite a while.
Shortly after I returning home from work, I received a call asking for me by my first name. The woman on the phone then asked me to tell my story of the PacSun experience to her. After listening to my story, she informed me that the staff on that day was full of inexperienced people who had been there for less than 4 months. She apologized profusely and said that she would be talking to the store manager about scheduling a better mix of experienced and inexperienced people. She offered me a coupon for $25.00 off a $50.00 purchase with no expiration date and said that we would be able to use our gift card in conjunction with the coupon because of the terrible experience. She then gathered my information and apologized some more.
The woman on the phone (Cindy B. – District Manager) was extremely helpful, very kind and honest about the situation. That was all I was looking for from the store employees. They should have acknowledged the product was faulty, refunded the money, and been far more helpful for a customer who was obviously in a distressed situation.
When all was said and done: the experience with the district manager helped to save an otherwise horrible interaction in the store and I will probably go back there to buy more jeans. However, I will definitely not be buying a belt from them any time soon.
[UPDATE]: Cindy B. went above and beyond with the package that I received. It was shipped 2-day mail and included a hand-written apology note and two Bullhead brand t-shirts along with the promised $25 off card. Now that's what I call customer service.
By the way: here is the COMPLETELY UNLISTED phone number for reporting a bad in store experience with PacSun:
1-800-444-6770 – extension 5030
Also, I asked Cindy B. about the fact that in-store complaints are handled through voicemail. Apparently, there is one person who checks the voicemail and then disperses it to the proper channels. Just a suggestion PacSun? Let pissed off customers talk to someone on the phone. Don't make them leave a message.
If you liked this post, then please be sure to subscribe to my feed.