Well then. Another week means another few games in review. If you read the last review then you would know we came upon a little diamond in the rough called Angry, Drunken Dwarves. But now, we deal with the next games on the list of Ubuntu & Open Source games. If you are unaware how to access these games then you may want to visit part 1 of these reviews.
But regardless of all that here we go!
Armagetron Advanced (Website)
From the get go this game had my attention just from the image in the installation screen:

In case you were living in a hole during the 80s, this game is inspired by the 1982 movie Tron.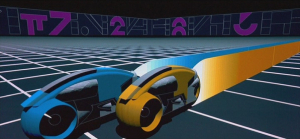 It is basically a spawn of a game commonly known as Snake. Except, there's pretty lights, sound, different game play modes and well, online playing experience. If you've ever enjoyed playing Nibbles while learning QBasic—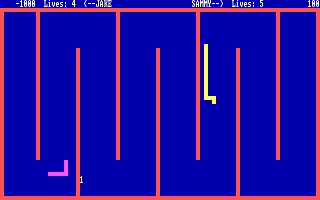 (yes, Nibbles)
–then you should give it a shot. In case you aren't up for multiplayer, there is also a single player experience. Here's a screenshot that doesn't do it much justice: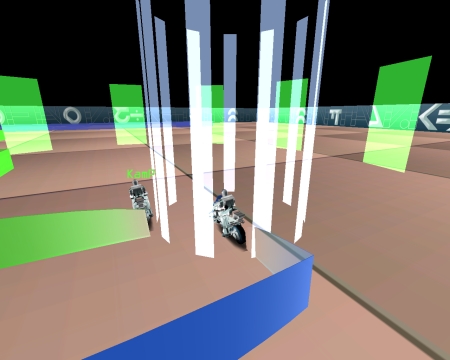 Overall, this game is well polished and quite a bit of fun. For more screenshots or info, check out the official site here.
Atlantik (Homepage)
This was another one that sounded like it would be something to kill time every once in a while:
"This is a KDE client for playing Monopoly-like boardgames on the monopd network.

It can play any board supported by the network server, including the classic Monopoly game, as well as the Atlantik game in which the property includes several major cities in North America and Europe."
Well, alright. I've got a 25-30 minute block of time. Why not try it out? Let's see here, we'll try and get the list of servers first. Hopefully we'll be able to find a game!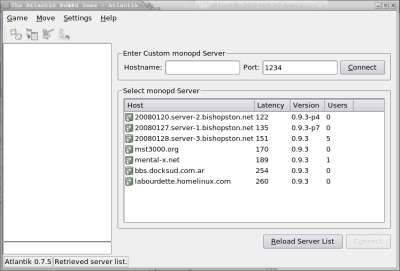 Okay… maybe not so much. Well, let's see if there's at least a dumb AI I can play against. Nope: no dice. At this point, I don't have time to wait for a new game to start or for one of the 5+ people playing to bum rush a game I might host. The screen shots from the website looked promising:
But, it doesn't look like there's been any development since 2004. Wow, I can't believe that was 4 years ago now. Should you feel like going along with the vision of the author, then there is also a designer for the game.
Atomix
Alright, this one is a bit deceiving. By the description, I thought this was going to be a cool game:
"Atomix is a game designed for GNOME in which you have to build molecules, from simple inorganic to extremely complex organic ones, out of isolated atoms."
However, I was quick to find out that this only partially the case. Although Atomix provides a bit of entertainment, it is very repetitive. There are 19 levels with no randomization options. Oh and when the description said isolated atoms, they just meant that they are located in a weird place on the map: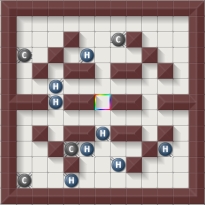 The game involves selecting an atom and moving it either vertically or horizontally. The atom moves along the board until it stops.

The object is to eventually make enough moves to create a pattern: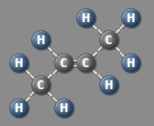 Each level is more and more difficult. However, if you get bored on a level, you can just skip it.
If you like this game or games of this nature, then I would highly consider a board game called Richochet Robots. It's a similar game style in which you compete with people to 'beat' a map by coming up with a solution with the least number of moves. Here's a pic to give you an idea: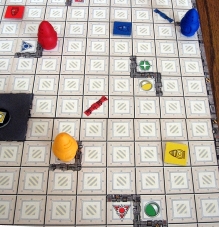 Overall, I prefer the board game.
Attal (Homepage)… maybe their Sourcefourge site… nope, nothing there. Oh, here we go, sorta: Attal Lords of Doom Wiki.
Before you go loading this game, you should know that it is still in development. Also note that for some reason, the window it opens in, likes to hide its window decoration behind your top bar. Which, makes accessing any of the menus or closing the game a pain in the butt. I was unable to get a map or campaign, or really anything going so we're going to have to rely on the screen shot I was able to find: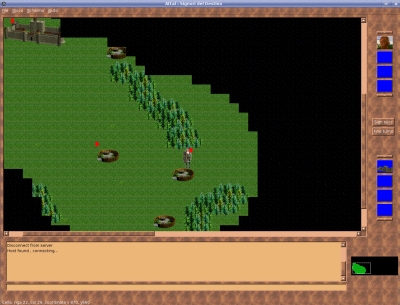 Nothing to see here. Doesn't look like there will be anything to see in the near future either.
Balazar (Homepage)
This game is described as a funny adventure game. Unfortunately, playing the game did not produce any adventure, or fun for that matter. It may be that the version I had was bugged as I did not get any reactions when trying to interact with the various people-things, that I ran into as I was running around the bizarre world.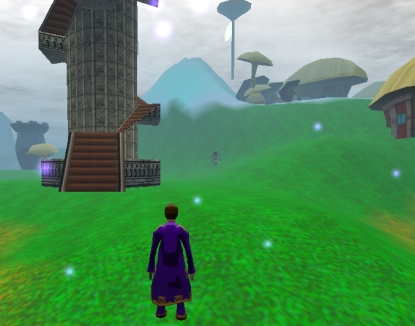 From the screen shots that I saw on their website here, it looks like the game might be fun if I could speak a different language, and if I could get it to work properly. Ultimately, I ended up following the suicide option the game offered more than once to try and get myself back on track.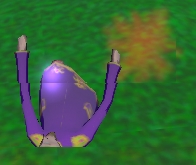 I wouldn't try to sink too much time into this one.
Well, that's it for part 3 of the Ubuntu (open source) gaming review. If you enjoyed this post, please consider subscribing to my RSS feed and be sure to stay tuned for the Ubuntu (Open Source) Games Review – Part 4!